We surveyed 53 mommies, who used a total of 26 different brands of strollers. Here are our findings:
The more popular strollers are: Keenz, Baby Jogger, Bugaboo, Babyzen Yoyo, and GB
The top five considerations when choosing a stroller are: weight/bulkiness, price, foldability, safety and comfort for the baby.
Why You Should Trust Me
Who Am I?
Hello! I'm Serene, a mother of 1, and I have been a Stay-At-Home-Mom for 2 years now. I was using a preloved Doona stroller prior to my current KEENZ Air Plus 3.0 stroller. I sent my Doona stroller to Pramwash for an intensive wash, before using it.
Pramwash

IMPRESSIVE CLEANING OF STROLLERS
I sent my Doona stroller for an 'intensive' wash ($109) and I am super impressed with how clean it was. The perspiration and food stains were gone. The stroller looked as good as new.
Description, price and image taken from Pramwash directly. We are not sponsored nor advertising for the above said company.
I switched to KEENZ because my daughter outgrew the Doona horizontally, and she seemed squashed inside.
My Stroller Journey
I don't drive. Hence, I am very particular about the strollers I buy – I need storage, and I need convenience. Bulky and heavy strollers with little storage space would not make it on my list of potential strollers to buy.
After my confinement, I would bring my daughter for daily walks with my trusty Doona Stroller to nearby parks or libraries (our favourite hangout place!). I love how it was so lightweight and easy to manoeuvre. Taking public transport with my daughter was a walk in the park (pun intended!)
The Search for Another Stroller Begins
The problem came when I realised the Doona car seat stroller doesn't have any storage.
When my daughter was around 6 months of age, we received news that we were moving to Germany – my husband was deployed there. Since I was aware that the Doona doesn't have much mileage, I decided to look for another stroller that could grow old with my daughter. As I knew I was going to be shopping or doing groceries with my daughter alone most of the time, I was sure I wanted a stroller with a HUGE storage space.
Of course, my needs and your needs are going to differ.
Thus, together with Nuevamae, we surveyed 53 mommies to find out what were their considerations when purchasing a stroller, and which stroller met their needs. Here, we present to you, the most concise, helpful (we hope!), and honest reviews about strollers.
Importance of a Stroller
Why Do You Need a Stroller?
A baby stroller is probably the first few things that should be on your mind before your baby pops out. Not only does a stroller keep your baby close to you, it also prevents parents from overstraining themselves from constant carrying. There are several benefits to owning a baby stroller.
Travelling becomes a lot easier with a baby stroller, allowing you to go from one place to another easily. Moreover, some strollers come with storage space, allowing you to put your diaper bag in there, or any other accessories, so you need not carry them. Some strollers are also so lightweight and easily foldable with a push of a button, and this makes travelling around super convenient.
With a stroller, babies can sit in them in comfort and even fall asleep in them. Instead of having to carry them, some strollers can recline 180 degrees, allowing the baby to fall asleep as if they are on their beds.
Saves You From the Physical Pains
With a stroller, you need not babywear your child the whole time and that saves you from the physical back pain. Moreover, parents are well-known for carrying one million and one things, so with a stroller, you can save yourself the pain by placing everything in your stroller!
What To Look Out For When Choosing a Stroller
Considerations
For mommies who take public transport, the weight and bulkiness of the stroller matters. A lightweight and compact stroller would be easier to manage when they are out and about.
Based on your budget, you can afford different kinds of strollers. For families with twins, your budget might be tighter and you would need a more affordable stroller.
Most strollers are foldable but some are easier to fold. Some strollers require two hands to fold, while some can automatically fold on their own. It depends on how important this factor is to you.
As your child will be in the stroller most of the time, it is important to ensure that it's safe for the baby to be in there.
Is it comfortable for my baby?
Having a stroller with good suspension and shock-absorbing wheels can make the ride more comfortable for your baby.
Advice From Other Mommies
Mommies' Advice
Here is some advice from mommies who already own strollers:
Frequency of usage or purpose: how often will you use it, and think about the occasions you need to use the stroller for
Ease of folding: get a stroller that folds and unfold easily if you go out alone with your baby often
Explore hand-me-downs as some brands are really durable
Testing: try to test the strollers at various shops (one mommy recommended Mothercare Harbourfront!) before buying
Mileage: get a stroller that you can use from birth to toddlerhood
Car boot space: some strollers are still very bulky when folded
Buy based on current needs, don't forecast too far into the future
Sturdiness: If budget allows, get a sturdier stroller because people may bump into your stroller while you're out and about. Lightweight strollers may not offer that kind of protection
Having more than one: you can consider having more than one stroller for various reasons. You can own one for jogging and one for travelling around.
Best Baby Strollers in Singapore
Recommended Strollers
After consolidating the survey results and analysing each stroller's pros and cons, we decided on this list of strollers that would benefit you.
Weight (kg)
Price (SGD)
Ease of folding
Double facing
Storage space
Use from birth
Max weight/age
Cabin-size
Fully reclinable
KEENZ
For daily use
6.8
469
2 hands
15kg
30kg
Bugaboo Bee
For daily use
8.9
1269
1 hand
4kg
4 years
Babyzen YOYO²
For the growing family
6.2
869
2 hands
5kg
22kg
Baby Jogger City Select 2
For the growing family
12
1229
2 hands
6.8kg
20.4kg
Mimosa Cabin City Backpack
For travel
5.6
399
1 hand
5kg
23kg
Joie Aire Twin Stroller
For twins
11.8
319
1 hand
?
15kg
Doona Car Seat Stroller
For the car seat
7.5
639
1 hand
No storage
13kg
KEENZ Air Plus 2.0 and 3.0
Designed and engineered in Germany & Korea, KEENZ 2.0 has the largest basket, fitting up to 45L in capacity, and carries up to 15kg. It also has a fully reclinable seat, making it perfect for newborns!
Pros
Defining characteristic: 45L Storage basket
Affordable
Fits in an airplane cabin
Many add-ons (e.g. cup holder, rain cover, stroller bag) are free
Practicality-Over-Anything Stroller – The Keenz Air Plus 3.0 stroller is perfect for that practical mom who wants to dump everything in the stroller.
KEENZ takes pride in its huge under-storage basket, which can carry up to 15kg worth of items. This stroller can also be used from birth till about 30kg.
---
Pros
Defining characteristic: Modular Design to allow front or rear facing
Comfort and great suspension
Folds in a snap
Durable (a mommy shared her stroller was used for more than 5 years)
6 months to 4 years old
Cons
Heavy (8.9kg)
Expensive
Many add-ons need to be purchased
Unbreakable-Stroller – perfect for the city dweller who is willing to splurge on an aesthetically-pleasing and functional stroller.
The Bugaboo Bee 6 is meant for babies from 6 months and up. You can buy their bassinet so you can start using it from birth. However, mommies have mentioned that they have tried using the stroller with their newborns and it was fine. Perhaps you could try it first, before deciding if you need to buy the bassinet.
The Bugaboo Bee is a durable stroller that can be used for many years. It also folds in a snap, with one hand and the sleek design makes going around a lot easier. Mommies mentioned that they loved the Bugaboo strollers mainly for their design, ease of folding and sturdiness. One of them also mentioned that the wheels had great suspension, making the ride really smooth for her child.
---
Pros
Defining characteristic: quick folding (travel-friendly)
Fits in airplane cabin
Wide range of colours
Use from 6 months to 22kg
Durable (a mommy shared her stroller was used for more than 5 years)
Cons
Costly
Many add-ons (leg rest, handlebar) need to be purchased
Small storage space
Inability to recline fully
Influencer-Mommy-Material Stroller – perfect for that gorgeous-looking mommy, who is willing to pay for aesthetics and functionality.
This sleek-looking stroller is loved by many mommies who prioritise aesthetics and functionality. The YOYO² stroller folds and unfolds, with 2 hands, making going around convenient for parents.
The YOYO² stroller is meant for babies from 6 months onwards. You can buy either the newborn pack or the bassinet so you can start using your YOYO from birth. Their main difference would be that you can fold your stroller with the newborn pack attached.
---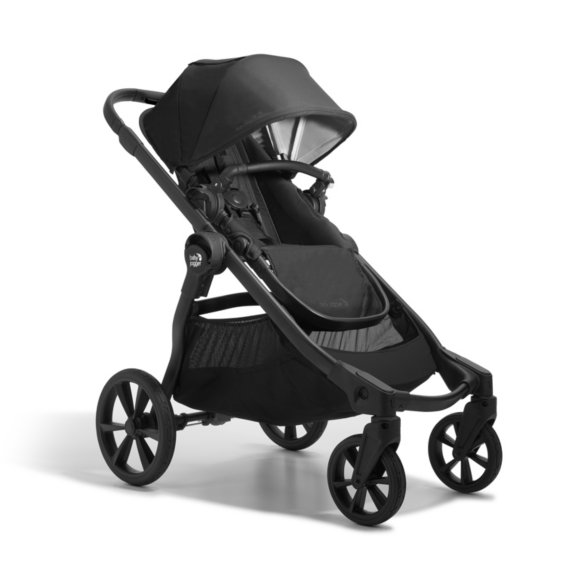 Baby Jogger City Select 2
The Baby Jogger City Select 2 stroller is a versatile dream for parents who know having only one option is not an option. With 24 configurations, this stroller converts from a single to a double with a second seat or infant car seat, or even to a triple stroller with a glider board!
Pros
Defining characteristic: converts from single to triple stroller
Birth to 20.4kg
Double-facing
24 configurations (from single to triple stroller)
Large under storage basket
The-Growing-Family Stroller – perfect for parents who are sure they want to have a second (or more!) baby.
This stroller offers 24 configurations, converting from a single stroller to a triple stroller with glider board. You can use it for a newborn and a toddler at the same time.
To transform it into a double stroller, you can buy their second seat kit. To transform it into a triple stroller, you can buy their glider board.
---
Pros
Defining characteristic: Ultra-compact Folding Mechanism
Can be reclined almost flat (good for newborns)
Affordable
Lightweight (5.6kg)
Carefree-Traveller Stroller – perfect for that carefree traveller going overseas.
This is an ultra-compact stroller that folds and unfolds easily, perfect for you when you travel. It is also suitable for newborns and it can be used up to 23kg. This stroller can also be reclined almost 180 degrees, giving your newborn the perfect place to nap.
---
Pros
Defining characteristic: Flat reclining seats
Affordable
Reclines independently of each other
Suitable from birth to 3 years old
One hand fold with automatic fold lock
Cons
Only front-facing
Weighs 11.8kg
Small wheels
The Double-Trouble stroller – the Joie Aire Twin stroller is perfect for parents with twins, who are looking for a more affordable stroller that can be used from birth. With seats that recline independently of each other, your twins can be napping and playing at different times. With double the expenses, we feel that a functional and affordable stroller would be helpful for you.
---
Pros
Defining characteristic: Converts to a car seat in seconds (perfect for grab rides!)
Light
Easy to maneuvere
Cons
Baby outgrows very quickly
No storage space (needs to buy their all-day or essentials bag!)
Grab-Rider Stroller – perfect for grab riders.
The Doona car seat stroller is a stroller that converts to a car seat in seconds. For mommies who don't own a personal car, having a portable stroller is useful. This infant car seat stroller gives you convenience when travelling around.
A mommy mentioned that she loved this stroller so much that she actually bought 2 of them.
Other Stroller Alternatives in Singapore
Other Contenders
Strollers for Travelling
1. GB Pockit+ Stroller
The GB Pockit+ Stroller (SGD 549) is an ultra-compact stroller that can fit in your backpack. This frees up your hands when you need to cross immigration or board planes. The foldability gives you the freedom when you need to switch to a baby carrier, but don't want to push a stroller.
It's currently sold out in many places. However, you can consider renting it.
Strollers for Daily Use
1. Bugaboo Butterfly
The Bugaboo Butterfly stroller (SGD 769) folds with one hand, and into an ultra-compact stroller. This stroller is also cabin-friendly. It has a decently big under-storage basket (8kg).
2. Hamilton X1 Plus Stroller
The Hamilton X1 PLUS MagicFold Stroller (SGD 499) features an automatic folding system, MagicFold.
3. Combi Urban Walker Lite Stroller
The Combi Urban Walker Lite Stroller (SGD 369) has a 170-degree full reclining seat and shock-absorbing structure. It can be used from 1 month old onwards. A mommy also shared that her stroller was used for more than 5 years.
4. Nuna Triv Stroller
The Nuna Triv Stroller (SGD 1199) is a city stroller that folds into a self-standing unit. The EURO model can lay flat for newborns, but not the US model.
Strollers for Jogging
1. BOB Gear Alterrain Pro Jogging Stroller
BOB Gear Alterrain Pro Jogging Stroller (USD 599.99) is a jogging stroller that you can take on any terrain. It comes with an ergonomic handbrake for downhill control.
Buy from Amazon.
Strollers for Twins
1. Baby Jogger City Tour 2 Double Stroller
The Baby Jogger City Tour 2 Double Stroller (SGD 779.00) features superb workmanship, is extremely stable and weighs less than 11 kg. It is suitable from birth and makes your everyday life with two children easier.
Thoughts on Strollers in Singapore
Concluding Thoughts
Strollers – your baby's companion and the saviour of physical pains. There are so many strollers out there that you can choose from. Eventually, it is a matter of what your needs are, and your budget.
There were other strollers that we felt were useful, but were not elaborated on because of certain reasons – not as versatile, or were more expensive than one that we have chosen, etc. However, they were still placed under 'Other Contenders' because we wanted to provide you with possible alternatives that could cater to your needs better.
We hope this article provided you with the information you need to buy a stroller.
To end off this post, I would like to give thanks to the sweetest mommies, who replied me amidst their busy schedules to make this review possible:
Disclaimer: Nuevamae is not sponsored by any of the mentioned brands or platforms. This article expresses our honest opinion based on our experience and research. Read more about our mission. This article includes affiliate links so we may earn a commission (at no additional cost to you) if you make a purchase via the link.
6 Best Strollers in Singapore in 2023 – Tried and Tested by Mommies