No one milk bottle is perfect, but we can always find that one bottle that is perfect for our baby and us.

We interviewed 10 mummies, who used Hegen, Avent, and/or Pigeon bottle brands, to find out if Hegen was worth the hype and how it matched up to the other 2 brands. We found that when comparing bottles made of Polyphenylsulfone (PPSU) material, Hegen was the top favourite, followed by Pigeon's SofTouch PPSU Nursing Bottle and lastly Avent's Natural Bottle.
Read our Hegen bottle review below to find out if it is worth the price!
Introduction to Hegen Milk Bottles
About Hegen
Proudly made in Singapore, Hegen was founded in 2015 and has won many awards thus far. They gained traction in the last few years with their main advantage of expressing, storing, and feeding breastmilk all from the same bottle, without losing a single drop.
They also started webinars, workshops, and Telegram group chats that helped new mommies gain knowledge about breastfeeding and be confident and ready for their new exciting journey.
Hegen's bottles are made from Polyphenylsulfone (PPSU), which explains their amber tint, and contain zero artificial pigments. Their products are free of BPA, BPS, Phthalates and PVC. Most importantly, their elliptical-shaped teat has a built-in anti-colic air vent that reduces unwanted air intake.
My Review of the Hegen Milk Bottle
Personal Experience
I have been using Hegen's bottles for about 2 years now and I have nothing but great things to share about them. As a First-Time-Mum (FTM), I was clueless about milk bottles and was shallowly attracted to the aesthetics of Hegen bottles. After seeing their bottles at Mothercare, I began to do research on them and realised they are a Singaporean brand!
Let's be real here, these specially shaped 'sqround' bottles are more expensive than the commonly used brands out there! For a gauge, the Avent Anti-colic PP Bottle with AirFree Vent (260ml) costs about $14 and a similar-sized Hegen bottle (240ml) costs $28. That's more than twice the price, and some of you must be thinking if there's even a need to spend this much on ONE milk bottle?!
Moreover, the patented 'sqround' shape makes it incompatible with some products, like the famous Maymom's flange, and in order to use them together, you have to buy Hegen's wide-neck adaptor. As a result, you have an additional item to buy, wash and sterilise.
You must be thinking right now if it's worth the price, the hassle and the investment.
2 years later, I am telling you that YES, IT IS worth every cent, every hassle, and the investment. To cut the long story short, if you answered yes to most of the following questions, you may really want to consider Hegen as your baby's bottle:
Are you particular about the milk bottle being made of PPSU material?
Will you be bottle-feeding most of the time?
Would you prefer an anti-colic bottle?
Do you wish to use the bottle for other purposes, after your child weans off milk?
Read on to find out about my experience and how the Hegen bottle made life much easier for me as a FTM!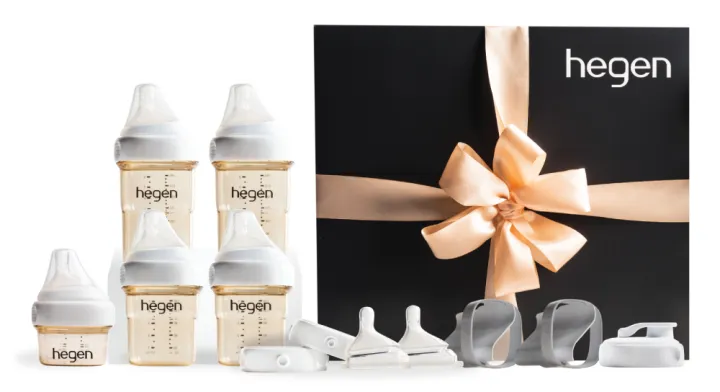 Hegen PCTO™ Complete Starter Kit PPSU (SG Exclusive Plus)
Benefits of the Hegen Milk Bottle
Features
These are some of the key features and benefits of Hegen's milk bottles that made my breastfeeding journey more pleasant!
Express, Store & Feed
Hegen prides itself on its bottles, with the famous line of 'every drop of milk counts'. From a low-supply mother's point of view, you have no idea how important it was for me to preserve every drop of milk, and ensure that the energy I used for power pumping, and latching goes into my baby's system.
I chose to express my breastmilk so I could monitor how much milk my daughter was drinking. I loved how I could:
express my breastmilk into Hegen's bottles, cover them with the storage lid,
store them in the fridge and
when the time was up, I could just feed my daughter directly from the bottle by changing the lid to a feeding teat.
This was especially useful for me during the middle of the night pumps, where I had to groggily express my milk, and store them in the fridge.
Thus, if you are bottle feeding most of the time, you might want to consider using a better quality bottle made of PPSU material as you will be washing and sterilising them repeatedly.
Off-centre Teats
I never understood the importance of this until two mummies shared with me that other bottle teats would 'crush' their kids' noses during the last few drops of milk and that would affect their breathing while drinking milk.
Hegen's off-centre teat helps promote upright feeding that reduces the risk of milk back-flow, which could possibly result in colic etc. I also found that they helped with pace feeding when upgrading the teat to a faster flow.
Feeding in a more upright position helps the baby to adjust to a faster flow and prevents them from drinking too quickly, and possibly vomiting everything else out.
Minimise Nipple Confusion
2 years on, my daughter is still latching and drinking from the milk bottle. I love how the shape of the teat mimics the mother's nipple and minimises nipple confusion.
With the ability to either latch or bottle feed meant someone else could take the job of feeding for me if I am not around. This not only helps me gain sanity, but it also gives me some freedom to choose to latch when I'm out, so I need not lug too many things with me.
Stackability
This is a feature that I never knew I needed.
In the early months of a newborn, I found the top shelf of my fridge full of milk bottles and this simple feature of stacking my Hegen bottles meant that I could utilise the vertical space, and be able to fit other things on the same shelf.
I could arrange the bottles according to dates, and stack them in groups for easy reference. One mummy also shared with me that she liked how the snap-on interconnecting storage lids make a neat storage system.
Multipurpose Feature
I have their bottles in several sizes – 60ml, 150ml, 240ml and 330ml.
Confinement has ended for me and my daughter is now 1 month old! She's now drinking more than 60ml, so what do I do with the bottle? This is also another reason why I love Hegen's bottle. They're more than just a milk bottle, they can be used as a simple container.
The 60ml bottle may seem too small and useless for now, but it was so useful for me to keep my pills – oh yes, I never knew I had to eat that many supplements after birth! – when I was out and about.
2 years on, I am still using these bottles to store puree, snacks and biscuits, and even for baking! I dedicated a few bottles for baking purposes and my daughter would stare at me in confusion, thinking why her milk bottle was used for other purposes.
Ease of Formula Milk Preparation
With my daughter in one hand and the formula scoop in another, I found it especially easy to pour the formula milk powder into the bottle due to the sqround opening. This also resonated with a mummy who told me she preferred Hegen to Avent bottles due to the wide opening.
Previously, I was also using another bottle and found that the small round opening makes it harder to pour the milk powder and sometimes, there will be powder found on my kitchen countertop.
Hegen Milk Bottles vs Other Brands
Comparison Against Other Brands
Price (feeding bottle with teat)
available volumes
available teat sizes
stackability
Anti-colic function
Material
PROS
After analysing the 3 famous brands, it boils down to the question of the importance of PPSU. Most bottles are made from polypropylene (PP) and it gives the bottles a clear, transparent finish. They're more economical to produce, and hence, are cheaper than bottles made from polyphenylsulfone (PPSU).
When comparing bottles made from PPSU and PP, the former is made from medical-grade plastic, which is highly durable and more heat resistant (180 degrees Celsius) as compared to PP (110 degrees Celsius). You can see the comparison between PPSU and PP on Hegen's website.
Mummies we interviewed voiced their concerns about using bottles made from PP simply because these bottles are heavily used, washed, and sterilised during the first year of life. They mentioned that bottles made from PPSU were sturdier and more lasting, and showed slower signs of wear and tear.
So now, the ball is in your court.
Is PPSU important to you? Answering that question would better help you decide which brand, and which bottles to go for!
Differences between Hegen vs Avent
Comparing Hegen and Avent, it is pretty evident that the use of PPSU, increases the price of the bottle exponentially. I would say that the Hegen bottles are very much similar to Avent's Natural PPSU bottle, with just the design and mileage of the bottle to question.
Compatibility with Third Party Accessories
Mummies shared that an advantage of Avent's wide neck bottles is that they are compatible with 3rd party pumping accessories such as Maymom's flanges or even other breast pump brands such as Spectra. However, when using Hegen's bottles, you will need to buy a wide-neck adapter so that you can pump directly into the bottle.
Functionality
Having said that, their bottles are mainly used as milk bottles. Beyond the use of drinking milk, people rarely upcycle these bottles. On the other hand, Hegen bottles can be transformed into straw bottles, with the use of their straw spout accessories.
Most mummies mentioned that they loved Hegen as it is multipurpose – their bottles can be used to store purees, snacks, and your own drinks like coffee, tea, etc. I personally feel that these bottles have a longer mileage in your house.
Affordability
Moreover, you could look out for their trade-in programs, where you can trade in your old bottles, and pay a fraction of the retail price for their new bottles, which makes them a lot more affordable! One mummy also shared that their bottles are customisable and that makes things so much more exclusive, especially when you are thinking of buying gifts.
Material
If you are particular about using PPSU bottles, these 2 brands – Hegen and Avent – are pretty much similarly priced, so I would choose Hegen.
Differences between Hegen vs Pigeon
Material and Pricing
The strongest contender to Hegen bottles would have to be Pigeon's SofTouch PPSU Nursing Bottles. The latter is also made from PPSU and its pricing is more economical ($20.90) compared to Hegen's bottles ($27.50). If you are just looking for a milk bottle to try out, you could possibly use this bottle instead!
Bottle Volumes
Do take note that they only come in 2 volumes – 160ml and 240ml – unlike that of Hegen's which come in 4 different volumes.
Convenience
Pigeon is a widely known brand, and you can find them in most supermarkets. That makes purchasing them very convenient and you need not go to baby essential stores like Motherswork or Kiddy Palace. A mummy also mentioned that such convenience was helpful when she needed a change of teat immediately.
Summary
I would only recommend Hegen if you are looking into using the bottles for other purposes – to store purees, snacks, toys, pills, etc – and if you would prefer to have a wider range of volumes to choose from. To some mummies we interviewed, they preferred a cheaper bottle like Pigeon's as they were mainly latching, and these milk bottles were mostly on standby.
Overall Thoughts on Hegen Bottles
Concluding Thoughts
After using Hegen bottles for 2 years, I can safely say that I would definitely continue using it for my 2nd kid. Most mummies mentioned that the price deterred them but I really liked the myriad of functionalities and most importantly, it really seemed to minimise nipple confusion for my daughter (isn't that the most important thing here? The ease of switching between latching and pumping – best of both worlds!).
With that being said, I would like to reiterate that no one bottle is perfect. Should this bottle fail for my next child, then perhaps I may consider another bottle. Whatever choice you choose for your child, I'm sure that it is the best choice for them and I will hope for the best for you too!
Did you know?

Hegen has a special trade-in programme where you can trade in old milk bottles and buy new Hegen ones at a fraction of their price. Instead of $27.50, a feeding bottle (240ml) cost $23* instead.

That is when you realise that it's similarly priced to Hegen's strongest contender – Pigeon's SofTouch PPSU bottles, which are priced at $20.90 (240ml).

This is also why I love these bottles – they will never go to waste! You can always recycle them for a good cause, and buy brand-new bottles for your next child, at a much more affordable price!

*Prices are based on July 2022's trade-in promotion.
I hope my two cents' worth was useful and beneficial for you. Here's to the most fulfilling journey you will ever experience – motherhood :")
To end off this post, I would like to give thanks to the sweetest mummies, who replied me amidst their busy schedules to make this review possible:
Thank you, mummies!
Disclaimer: Nuevamae is not sponsored by any of the mentioned brands or platforms. This article expresses our honest opinion based on our experience and research. Read more about our mission. This article includes affiliate links so we may earn a commission (at no additional cost to you) if you make a purchase via the link.
Hegen Bottle Review: Is This Square Baby Milk Bottle Worth the Price?