Choosing a baby milk bottle is likely one of the first decisions you'll make on your parenthood journey. Selecting the right one can significantly impact your feeding experience and your baby's safety. You have various materials to choose from, but in this article, we will focus on the more popular and common options: glass, Polypropylene (PP) plastic, and Polyphenylsulfone (PPSU) bottles.
In this article, we will explore their differences and recommend some baby milk bottles, helping you find the best material to suit your needs, budget, and preferences.
Why Should You Trust Me
Who Am I?
Hello! I'm Serene, a mother of one 3-year-old daughter (as of Nov 2023) and in these 3 years of my daughter's life, I've in fact only explored the PPSU option – Hegen milk bottle. I've done intense research on various bottles that I could choose from and eventually chose Hegen milk bottles for several reasons.
In relation to this article, I chose the Hegen bottle mainly because it is made of PPSU material. In the comparison between PPSU and PP bottles*, it's worth noting that the former is crafted from medical-grade plastic, renowned for its exceptional durability and superior heat resistance, reaching temperatures as high as 356°F (180°C).
*To explore a detailed comparison between PPSU and PP, you can visit Hegen's website.
Types of Baby Milk Bottles
Types of Baby Bottles
There are many different materials used for manufacturing milk bottles. However, in this article, we will be focusing on three of the most popular materials for baby milk bottles.
Glass Bottles
Glass bottles are renowned for their time-tested durability and hygienic qualities. The transparent nature of glass bottles allows parents to easily monitor milk levels and cleanliness. Parents who prioritize safety and seek a timeless, sturdy option for their baby's milk bottle often choose glass over other materials.
PP Plastic Bottles
Polypropylene (PP) is a safe, BPA-free plastic widely used for food containers. It offers a convenient choice for parents looking for affordability and practicality, as it is resistant to cracking or breaking when dropped. Parents prefer PP plastic baby milk bottles because they are more low-maintenance than other materials.
PPSU Bottles
PPSU baby milk bottles are celebrated for their durability and resistance to higher temperatures when compared to PP bottles. These bottles are suitable for sterilization and repeated use. Despite being more expensive than PP bottles, PPSU bottles have gained popularity in the baby market due to their durability and high performance.
Glass vs Plastic vs PPSU Baby Bottles
Glass vs Plastic vs PPSU
Glass
Plastic
PPSU
Ingredients
(specifically Bisphenol A (BPA))
Free of BPA
Some older or low-quality PP products may contain trace amounts of BPA
High-performance plastic that is manufactured without BPA or its derivatives
Heat-resistance
High heat resistance but fragile when subjected to rapid temperature changes
Less than 230°F (110°C)
Up to 356 – 392°F (180 – 200°C)
Stain-resistance
Easy to clean
Easy to clean
Easy to clean
Odor-resistance
Highly resistant to retaining odors
Slightly less odor resistance
Less prone to retaining smells
Durability
Most durable
Need to be changed frequently
Durable
Ease of cleaning
Easy
Easy but prone to scratches
Easy
Price
Premium price
Affordable
Premium price
Weight
Heavy
Lightweight
Lightweight
Ingredients
When comparing the ingredients of glass, PP, and PPSU, many are concerned about the presence of Bisphenol A (BPA) due to its potential health effects. Ideally, the product used should be free of BPA.
While glass and PPSU baby bottles are free of BPA and its derivatives, some plastic bottles may contain trace amounts of BPA. Thus, glass and PPSU bottles may be the preferred choice among many parents.
Heat-Resistance
As parents constantly sterilize bottles, it's important to ensure that milk bottles can withstand various temperature conditions for safety and longevity. PPSU bottles have a high heat resistance of up to 392°F (200°C), while plastic bottles have a lower heat resistance of up to 230°F (110°C).
Although glass milk bottles are resistant to heat, they can be a potential safety hazard – rapid temperature changes can cause them to shatter into pieces.
Stain-Resistance
Stain-resistant bottles prevent the absorption of colors or residues from milk, maintaining appearance, and preventing lingering odors from previous uses. The good news is, all three materials are resistant to staining!
Odor-Resistance
Bottles should not retain or transfer odors from previous uses to ensure the freshness and taste of milk. Glass bottles are the best at preventing odors, followed by PPSU and lastly plastic bottles.
Durability
Durable bottles have a longer lifespan, meaning parents do not need to replace these bottles regularly. This not only saves money but also minimizes waste, making them more sustainable.
With proper caution, glass bottles have the longest lifespan among the three materials. This is followed by PPSU bottles which are also durable. Plastic baby bottles have to be replaced more regularly, making them less eco-friendly.
Ease of Cleaning
It's crucial to ensure that a bottle is easy to clean, as cleanliness directly impacts the safety and quality of stored milk. Bottles that are easy to clean reduce the risk of bacterial growth and contamination. While all 3 types of baby bottles are easy to clean, plastic baby bottles tend to be more prone to scratches.
Price
Price is directly related to parents' budgets, and they should find a product that fits comfortably within their spending range. Both glass and PPSU baby bottles come at a premium price, so plastic bottles are the preferred choice for budget-conscious parents.
Weight
Lighter bottles are generally more portable, making it easier for babies to hold in their earlier years. For lighter bottles, PPSU and plastic bottles are often the go-to options, as glass bottles tend to be heavier.
Best Glass Baby Bottles
Recommended Glass Bottles
Glass baby bottles are a classic choice for those who prioritize safety and durability.
---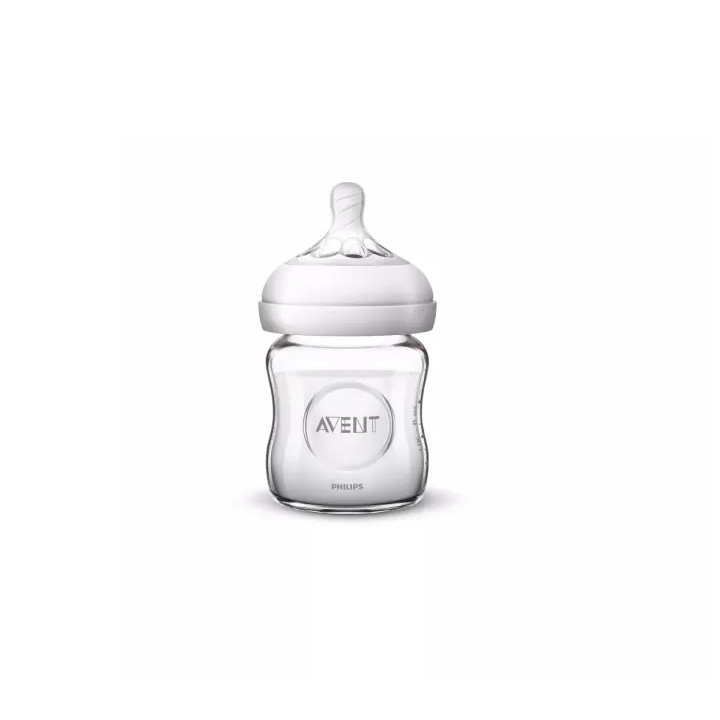 Philips Avent Natural Glass Baby Bottle
The Philips Avent Natural Glass Baby Bottle is a reliable choice for parents. It offers heat resistance, a wide breast-shaped nipple for a natural latch, a skin-soft teat, anti-colic valve technology, and an ergonomic design for comfort. Made of pharmaceutical-grade glass, it's BPA-free, easy to use, and adapts to your baby's changing needs.
---
Dr. Brown's Natural Flow Anti-Colic Options+™ Narrow Baby Bottle
Dr. Brown's Natural Flow Baby Bottle comes with a clinically tested anti-colic internal vent system designed to reduce spit-up, burping, and gas. This system also maintains the essential nutrients in the milk, promoting smoother digestion for a more restful night's sleep.
While the internal vent system is ideal for optimal performance, this baby bottle is adaptable to a baby's evolving feeding needs. There's no necessity to switch to a different bottle as your baby grows since the vent system is removable. Furthermore, Dr. Brown's silicone nipples ensure a consistent flow of milk, allowing babies to feed at their own comfortable pace.
---
Ideal for nursing moms, the Lansinoh Glass Breastmilk Feeding Bottle features NaturalWave, clinically proven to reduce confusion for babies switching between breast and bottle. Crafted from premium borosilicate glass, these bottles are durable, heat and thermal shock-resistant, and free from BPA and BPS. Their simple, dishwasher-safe design, comprising only four pieces, allows for easy cleaning and reassembly.
Additionally, the bottle's NaturalWave is equipped with an air ventilation system to reduce air intake, potentially alleviating gas associated with colic during bottle feeding.
Best PPSU Baby Bottles
Recommended PPSU Bottles
PPSU baby bottles are premium options for parents looking for durability and high-performance bottles.
---
The Hegen feeding bottle was created to make the breastfeeding and bottle-feeding experience seamless for both mothers and babies. It features a unique square-shaped design that's not only aesthetically pleasing but also practical, as it prevents the bottle from rolling and offers a secure grip.
This milk bottle is BPA-free and made from high-quality, safe materials, ensuring your child's health and safety. Moreover, the off-center teat helps to reduce gas, backflow, and ear infections by promoting upright feeding.
Read our full review of the Hegen milk bottle here!
---
Pigeon SofTouch™ Nursing Bottle
The SofTouch Nursing Bottle is designed to accommodate a baby's natural tongue movement with its soft and flexible teat. Its unique latch-on line also helps to guide the baby towards a comfortable and secure latch.
With its wide neck and streamlined design, cleaning and washing the bottle is easy. Moreover, the bottle's anti-colic system helps to minimize gas intake.
---
To promote better latching and suction, the Closer to Nature bottle features an extra wide teat that's flexible and stretchable. Additionally, the bottle's unique shape allows babies to grip it easily and comfortably.
Furthermore, the easi-vent valve reduces air absorption so you won't have to worry about colic.
Overall Thoughts on Glass, Plastic and PPSU Baby Bottles
Concluding Thoughts
When considering baby bottle options, parents have varying budgets and needs. The differences and similarities among the three most common and popular material bottles are shared above. It's essential to consider your lifestyle needs, the frequency of sterilization, and your priorities, such as the bottle's weight, when deciding which material of baby bottles to purchase.
Personally, we'd recommend going for higher quality PPSU bottles if you'd like a lightweight and durable bottle.
Like many other products you may buy throughout parenthood for your babies, keep an open mind and try out different options. Surely, you'll find a product that suits both you and your baby.
Disclaimer: Nuevamae is not sponsored by any of the mentioned brands or platforms. This article expresses our honest opinion based on our experience and research. Read more about our mission. This article includes affiliate links so we may earn a commission (at no additional cost to you) if you make a purchase via the link.
Glass vs Plastic vs PPSU Baby Bottles: What Is the Difference and Which Is Better?