I am sure you have asked yourself this several times in your mind. Whether it is an outing with your newborn or a trip to the pediatrician, you want to be well-prepared for any situation you might face. Keeping your diaper bag well stocked with all the necessities can prevent oops-ie moments and freakouts that would ruin your day.
Packing a diaper bag may be challenging especially if it is your first time. Do not belittle this inconspicuous bag as you will find yourself reaching out for it more than you can imagine.
In our article, we share 11 essential diaper bag items you need, based on feedback from our community of mommies. Find out what to pack in your diaper bag below (and save our handy checklist on your phone so you don't miss anything when packing)!
Why You Should Trust Me
Who Am I?
Hello! I'm En Jia, a mom of one.
After my daughter was born, I realized that I needed a bag that was big enough to fit all her baby items. I chose a backpack as my diaper bag as it gives me the convenience to free up my hands. It has a large space and there are many compartments for me to store the essentials while I am out and about.
I have recommended one product for each section based on the items my mommy friends and I personally used. These products have worked best for us and our babies. Of course, every baby has different needs but you can use my list as a guide on what to pack in your diaper bag.
What to Pack in Your Diaper Bag
Diaper Bag Essentials
First things first, the must-haves in your newborn diaper bag should be based on where you're going and the situations you may encounter on your trip. This list will include all the basic essentials I have in my diaper bag and you can consider including any other special items your baby needs and amend the list from there.
1. Diapers
Pack one diaper for every two to three hours you will be out. Do pack a few extras in case of a poonami!
Rascal + Friends has been the go-to diapers for my daughter as they do not include any harsh chemicals and are gentle on her skin. Although the price is slightly steeper than other brands, she no longer has diaper rash and there have been no leaks so far (fingers crossed!).
2. Baby wet wipes
Bring out a mini or travel-size pack to save space in your diaper bag. If I were to pick the most important item, it would be the wet wipes. You simply cannot miss out on this item as there are so many uses for it – cleaning your newborn's bum, wiping your hands and any dirty surface.
Oldam wet wipes are suitable for all babies and even babies with sensitive skin. They only use natural ingredients and are FDA approved. Every piece is thick, moist and embossed, thus reducing the number of wipes needed for every diaper change.
3. Wet bags
Wet bags are useful for containing soiled diapers and clothing. These can be used to segregate clean items from used ones to prevent contamination.
Alvababy wet bags have stylish designs that are made from waterproof 100% polyester. There are two zip compartments where you can store wet and dry items separately. They are leakproof and super easy to wash.
4. Diaper cream
Buds Organics Nappy Time Change Cream
Diaper cream is essential in protecting your baby's bum between every diaper change. It can serve as a protective barrier and soothe the skin from friction.
Buds Organics Nappy Time Change Cream is mild and suitable to be used daily at every diaper change. It cleared my daughter's diaper rash almost immediately after a few uses. A tiny amount is sufficient to cover her entire bum.
5. Disposable changing pads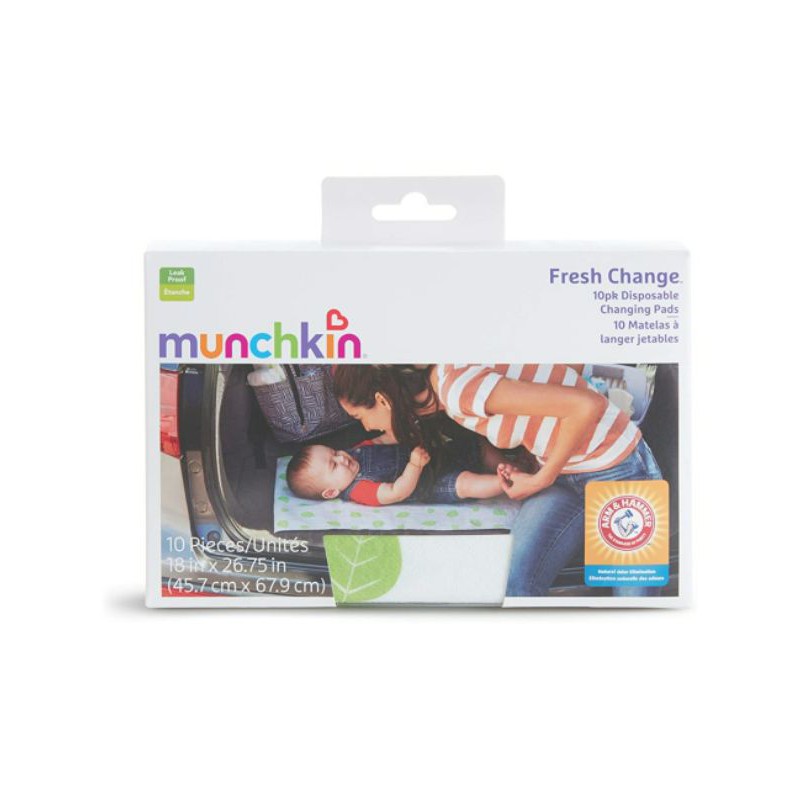 Munchkin Arm & Hammer Disposable Changing Pads
A changing pad serves as a changing table when you are outdoors with your baby. It is important to change your baby's diapers on a clean surface to keep bacteria from coming into contact with his or her bum.
I recommend disposable changing pads instead of reusable ones as you can throw them away after every diaper change. It is more hygienic and no clean-ups are required. Munchkin's Disposable Changing Pads have a three-layer design and leak-proof liners for extra comfort and protection. Each pad also contains baking soda that can neutralize odor.
6. Breastmilk storage
Ceres Chill Breastmilk Chiller
Optimally, breast milk should be properly stored within 4 hours after expression. Expressed breast milk can be kept in a breast milk chiller for up to a day and will guarantee the quality of milk when you are outdoors with your baby.
It is difficult to access fridges when you are outdoors and most cooler bags are big and bulky. Ceres Chill Breastmilk Chiller can keep milk cool and fresh for the duration you are out with your baby. Other than using it to cool milk, you can pump directly into the bottle, use it as a warmer and even feed your baby with the accessories that come together with the breastmilk system.
7. Extra set of clothes
It is always good to keep an extra set of clothes in your diaper bag in case of any accidents such as spit-ups or leakage from the diaper. Bodysuits are recommended as you can easily change your baby out of them with the snap buttons at the bottom.
Little Me's bodysuits are made from soft cotton that is gentle to the skin. The lap shoulder neckline allows maximum stretch and is designed for easy dressing. The sizing is just nice for my daughter as she has chunky thighs but may run big for smaller-sized babies. Choose the size according to your little one's measurements!
8. Burp cloths
Pack at least two to three burp cloths to clean your baby's spit-ups or drool. Don't hesitate to bring a few more, it won't take up a lot of space!
Hudson Baby Flannel Burp Cloths are made from 100% cotton which is great for absorbing spit-ups and drool. The flannels are soft and bigger than the standard burp cloth. They are durable and will withstand repeated washing.
9. Toys / Teethers
As it is difficult to prevent babies from putting everything into their mouths, a soothing teether can be used to keep them entertained while you're out. It will act as a pacifier and teether for the baby.
Mombella Mimi Mushroom Soothing Teether is suitable for babies from 0 to 8 months. This teether is designed so that your baby cannot put the entire thing in their mouth and potentially choke. It is easy to hold and will not fall off easily. There is a free clip accessory included when you purchase the teether.
10. Swaddle blankets
Swaddle Blankets are good to have in your diaper bag as they are very versatile. You can use it as a blanket when the weather is cold or swaddle your baby for naps.
I love using Angel Dear's Bamboo Swaddles as they are incredibly soft. It works as a great swaddle blanket for my daughter and keeps her warm. I have used other swaddles but they are my favorite so far. There are so many adorable designs you will be spoilt for choice.
11. Hand sanitizer
A hand sanitizer comes in handy when you are out and have no access to soap and water to wash your hands before a feed or after a diaper change. Hand sanitizers are effective in killing up to 99% of germs.
Cloversoft is a plant-based gel sanitizer that does not contain parabens, sulfates, dyes, phthalates or fragrances. There is a 60ml travel size option you may opt to purchase.
Items that are Nice to Have in Your Diaper Bag
Diaper Bag Extras
Here are some extra items you may consider packing into your diaper bag.
Extra shirt for yourself: A good to have in case your baby spit-ups during burping or breast milk leaks.
Reusable nursing pads: These are mostly made from cotton which is more gentle on your sore nipples especially in the first few weeks after giving birth.
Portable charger: It might just be your lifesaver when you are out with your newborn alone and have no access to electricity.
White noise machine: Some babies fall asleep better with the help of white noise machines as they create a comfortable, womb-like environment.
Organizing Tips for a Diaper Bag
Organizing Tips
It is important to keep the diaper bag organized to find what you need easily. It makes a difference when you have your hands full.
Keep small items in a pouch: You can easily retrieve the item you are looking for without digging into your diaper bag and risk messing it up.
Unpack and restock the essentials once you get home: Make it a habit to clean up your diaper bag and remove all used items. You will not want to find soiled diapers or used clothing inside the diaper bag the next time you head out. Restock all essential items such as diapers and clean clothing immediately so that you will not miss anything.
Double-check for the diapers: You won't want to put yourself in a situation whereby you are about to change your baby's diapers and realize that there is none left. Always double-check and ensure that diapers are restocked.
Pack according to categories in respective compartments: Keep things in the right spot so that you will know where to find them. Use the compartments in the diaper bag to segregate items of different categories. Pack clothing and burp cloths in one compartment, diaper changing items such as diapers and diaper cream in another.
Thoughts on Diaper Bag Essentials and Going Out
Concluding Thoughts
Heading out on your own the first time with your newborn may seem daunting but a well-prepared diaper bag will make your life a lot easier. With everything organized, there will be less fuss and you can find the things you need quickly.
This handy checklist will ensure that your diaper bag has all the necessities and give you the confidence to go out with your baby!
Disclaimer: Nuevamae is not sponsored by any of the mentioned brands or platforms. This article expresses our honest opinion based on our experience and research. Read more about our mission. This article includes affiliate links so we may earn a commission (at no additional cost to you) if you make a purchase via the link.
What to Pack in Your Diaper Bag: 11 Essentials Every Mom Needs