We surveyed 45 mommies who used a total of 10 different brands of bottle sterilisers. Here are our main findings:
The top 3 considerations when buying bottle sterilisers are: 99.9% sterilisation, multi-purpose sterilisation and drying function.
More than 50% of mommies own a Haenim steriliser, making it the most popular bottle steriliser.
Keep reading for our full review of the 4G+ UV Steriliser, including its pros and cons below!
I would recommend the Haenim 4G+ Steriliser if:
It fits your budget.
You prefer a steriliser with a large capacity.
You need a steriliser that is multi-functional – able to sterilise toys, baby cutlery and plates.
Introduction about Haenim 4G+ Steriliser
Haenim 4G+ Steriliser
Haenim is a Korean brand and they are particularly well known for their UV Sterilisers. The Haenim 4G+ Steriliser is the first UVC-LED steriliser in Korea which uses 9 UVC-LEDs for complete sterilisation. It is lab tested and proven to kill up to 99.9% of bacteria including CoronaVirus.
Importance of a UV steriliser and What to Consider
Importance and Considerations
Sterilising baby bottles in the early days of your newborn is important as it protects your baby from bacteria. A UV steriliser can efficiently sterilise baby bottles without the use of water or steam. Simply activate the steriliser with the touch of a button and it will automatically dry, sterilise and even act as a storage for your baby bottles.
When purchasing a UV Steriliser, mommies mainly considered the following factors: 99.9% sterilisation, multi-purpose sterilisation and large capacity.
A bottle steriliser's main role is to effectively sterilise baby bottles and should be able to kill all if not most of the bacteria and germs on the feeding items. The best sterilisers can provide up to 99.9% sterilisation.
It is important to have ample space in your steriliser. This is to accommodate all the feeding equipment and ensure that the items have some gaps so that they are not touching each other and can be properly sterilised.
What Mommies Say About the Haenim Steriliser
Mommies' Thoughts
These are some of the reasons why mommies love the Haenim Steriliser:
It is very durable and can last many years
Saves a lot of time
Low maintenance and easy to clean
More than half of the mommies own a Haenim steriliser, making it the most popular steriliser.
37% of mommies used the Haenim steriliser for more than two years. The steep price is justified by its long mileage and durability.
How Do I Feel About the Steriliser
Personal Experience
The model I own is the Haenim 4G+ Steriliser. By far it is one of the few big-ticket baby products I have purchased. Although I was taken aback by the hefty price tag, I decided to give it a try and it was the best decision I have ever made!
I am an exclusively pumping (EP) mom and I pump several times a day. Considering the number of times I need to feed my baby, and sterilise pump parts and baby bottles in a day, it is definitely worth the investment.
The Haenim Steriliser has a futuristic design that incorporates a big digital display with the time and temperature. This allows me to catch a glimpse of the remaining duration required for the sterilisation to be completed even when I am standing from a distance.
It also has a large capacity and can accommodate all my baby bottles while giving me ample space to store pump parts and pacifiers.
One of the features I appreciate is the clean function. The system calculates usage and the button shows up on display when it is time to clean. With so many chores to do with a newborn, this function has made my life easier.
UV sterilisers typically use standard UV lamps that need to be replaced regularly. Thankfully, the Haemin 4G+ Steriliser uses UVC LED lamps that do not need to be replaced and there is a 5-year warranty for the LED lamps in case anything happens. This was the real clincher as I did not have to worry about additional costs incurred and the trouble to change the lamps myself.
Pros and Cons of a Haenim Steriliser
Pros and Cons
Pros
Large capacity: can fit up to 16 bottles
Multipurpose sterilisation 
Do not need to replace UV lamps
Automatically shuts off after sterilisation
Ability to select different settings
Has drying function
Easy-to-use
Cons
Expensive
Long sterilisation cycles
Features and flaws
Twenty-four mommies voted that they loved the Haenim Steriliser most for:
its ease of use
large capacity and
ability to sterilise other items.
Most Loved Reason: Easy To Use
There are seven functions, auto, turbo, smart, dry, UV led, storage and clean. To activate the functions, you simply tap on the buttons and select the duration you want. It is very straightforward and user-friendly, saving you the hassle of unnecessary steps.
This is convenient for me as there is only one button to press and the steriliser will shut off on its own once the sterilisation is complete. As a first-time mom with a newborn, it made my life easier and allowed me to focus on other chores.
Large Capacity
The Haenim steriliser has a large capacity that enables you to fit up to 16 bottles. The interior of the steriliser is separated by racks that can be adjusted according to your preferred height. It can accommodate baby products of various heights and sizes, such as toys and feeding sets.
The steriliser can easily fit all of the Hegen milk bottles, hakka, pump parts and pacifier while allowing space for more. Having a large space is important to me as I wanted to use the steriliser as a sterile storage. There is ample space for me to keep all my items inside.
Multipurpose Sterilisation
As your little one grows up, the Haenim steriliser can be used to sterilise kids cutlery, plates and even your own items such as cell phones and remote controls. This steriliser is suitable for moms that want a UV steriliser that is multipurpose and can be used on items other than baby bottles.
My daughter is four and a half months now and I see myself using the steriliser to sterilise her feeding plates and tray in two months' time when I start baby-led weaning (BLW).
9 UVC LED Lamps
Compared to UVC lamps, UVC LED lamps have a longer lifespan. The UVC LED lamps have 1,200,000 minutes of lifespan which eliminates the need to replace lamps. It has high sterilising power at 275 nanometer and 9 UVC LED lamps ensure thorough and efficient sterilisation of all surfaces with no dead zone.
Turbo & Smart Function
The 4th Generation Haenim Steriliser has added new features, the turbo and smart function which is an upgrade from its predecessor.
The turbo function comes in handy when there are more bottles to sterilise and intense drying is required.
The smart function is an auto-detection of temperature and humidity for 24 hours. During the 24 hours, this feature automatically dries, sterilises and ventilates. Sterilisation and ventilation will be activated for 1 minute after the door is open and shut. This technology ensures sterile storage with continuous protection against bacteria.
Expensive
On average, a Haenim Steriliser costs about $500 and is one of the most expensive UV sterilisers in the market. The price is one of the biggest deal breakers for mommies as there are more affordable options.
I was taken aback when I found out about the sky-high price of the steriliser. Although I was sold by the features and accessibility, I only made the purchase when I chanced upon a group buy as it was out of my budget.
Long Sterilisation Cycles
There are three sterilisation cycles for the Haenim Steriliser: thirty minutes, fifty minutes and seventy minutes. As compared to steam sterilisers which have cycles as short as a few minutes, the Haenim Steriliser has longer sterilisation cycles.
Personally, I do not mind the long sterilisation cycles as the steriliser has a drying function which helps to dry the baby bottles as part of the sterilisation process and saves me the hassle of doing it myself.
Places to Purchase Haenim Sterilisers
Where to Buy Haenim Sterilisers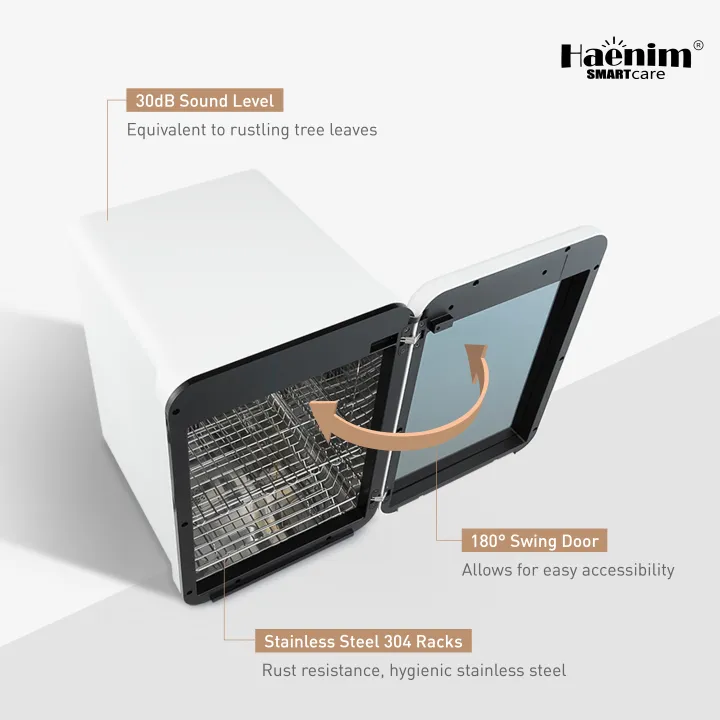 Haenim 4G+ Smart Classic UVC-LED UV Steriliser
Thoughts on the Haenim 4G+ Steriliser
Concluding Thoughts
I have used the Haenim 4G+ Steriliser since the birth of my daughter to sterilise all her feeding equipment. It has made my life easier. I cannot imagine how troublesome and inconvenient it would be to sterilise baby bottles so many times per day without the steriliser.
Although I may not need to sterilise my daughter's milk bottles after she turns 1, I can still use the steriliser to sterilise her toys and feeding sets. Therefore, I think that the Haenim Steriliser has a long mileage and is definitely worth the investment.
I hope that my review has been able to benefit you with your decision-making on the steriliser.
To end off this post, I would like to thank my dear mommies, who took the time to complete the survey to make this review possible:
Disclaimer: Nuevamae is not sponsored by any of the mentioned brands or platforms. This article expresses our honest opinion based on our experience and research. Read more about our mission. This article includes affiliate links so we may earn a commission (at no additional cost to you) if you make a purchase via the link.
Haenim 4G+ UV Steriliser Review: Is It Really The Best UV Steriliser?