45 mommies tested and reviewed a total of 10 UV and steam sterilizers. We handpicked and narrowed down to the 4 best bottle sterilizers you can find on the market. Here are our main findings:
53.33% of mommies are users of the Haenim UV sterilizer, making it the most popular bottle sterilizer.
The top 3 considerations when buying bottle sterilizers are: 99.9% sterilization, multi-purpose sterilization and drying function.
If you have the budget to splurge, go for the Haenim 4G+ UV Sterilizer.
If you need a large storage space, go for the Wabi UVC Sterilizer.
If you prioritize functionality, go for the Baby Brezza Steam Sterilizer.
If you prioritize value for money, go for the Philips Avent Advanced Bottle Sterilizer.
Why Should You Trust Me
Who Am I
Hello! I'm En Jia, a mom of one. As the mother of my daughter, I want to always provide the best for her. I have personally used the Haenim 4G+ UV sterilizer.
Sterilizer or No?
Just like many first-time moms, I was clueless about the baby essentials my newborn would need after she is born. After going through the baby checklist, one of the products I was skeptical about purchasing was the baby bottle sterilizer as it could easily cost up to a few hundred dollars. In the past, our parents only used boiling water to sterilize our milk bottles and sterilizers were little known.
Through my research, I've learnt that using a UV or steam sterilizer is a safer and more convenient way of sterilizing baby bottles. I decided to give the Haenim 4G+ UV Sterilizer a go and have never looked back since! The accessibility and fuss-free experience is worth every penny.
In order to gain insights on the factors to look out for when purchasing a bottle sterilizer, we surveyed 45 mommies who shared their experience on 10 types of bottle sterilizers they used.
Based on your needs, you can decide what's most suitable for you.
Why Do You Need a Bottle Sterilizer?
Purpose of a Bottle Sterilizer
There are several methods of sterilizing baby bottles, which include boiling and microwaving. The easiest method is using a bottle sterilizer. As most bottle sterilizers are multi-functional, you can select the mode of your choice and it will automatically start sterilizing.
Milk is the main source of food for babies in the first 6 months of their life. Unlike adults, a newborn's immune system and digestive tracts are not fully developed. Unless you are exclusively latching, your baby may come in contact with milk bottles as often as every feed. It is important that anything going into your baby's mouth is clean and sterilized.
Without proper sterilization, your baby is at risk of getting diarrhea or vomiting. The best bottle sterilizers can kill up to 99.9% of bacteria, reducing the possibility of germs being transmitted during bottle feeding.
Considerations When Buying a Bottle Sterilizer
What Should You Look Out For?
Before all else, you need to decide on the sterilizing method. Both UV and Steam sterilizers can eliminate bacteria quickly and efficiently, therefore they are go-to options for many parents.
31 out of 45 mommies state that the ability to sterilize 99.9% of germs and bacteria was the top factor they considered before buying a bottle sterilizer.
Top consideration: 99.9% sterilization
As a baby's immune system is not fully developed before the age of 1, they are vulnerable and prone to getting illnesses. As such, sterilizing should be done for at least the first 12 months of a baby's life. 99.9% sterilization effectively kills germs, bacteria and other microorganisms that might be on the baby bottle. This is essential in keeping your baby healthy.
Multi-purpose sterilization
A multi-purpose sterilizer can sterilize baby bottles and other items such as pacifiers, breast pump parts and toys. This will allow you to maximize the full potential of the sterilizer and can continue using it after your baby transitions out of milk bottles.
Large capacity
The sterilizer should be big enough to contain the number of bottles your baby uses per day. Depending on the type of baby bottles you use, some may be wide-necked and require more space than narrow-necked bottles. Do keep in mind that you may have to allocate space for your pump parts and pacifiers as well.
Value for money
Bottle sterilizers are often big-ticket baby items and you should get your money's worth. Consider the cost of the sterilizer with its features and quality to determine if it is worth the investment. While it is good to invest in a high-quality product, it is also important that you choose a sterilizer that fits in the budget set aside for it.
Easy to use
As a busy mom with a baby, an efficient and easy-to-use sterilizer can give you convenience especially when your hands are full. With smart technology, sterilizing baby bottles can be simple and quick with just a touch of a button.
Advice From Other Mommies About Bottle Sterilizers
Mommies' Advice
Here are some advice from mommies that own bottle sterilizers:
Mileage: Investing in a good quality sterilizer as you would need to use it long-term
Drying Function: Get a sterilizer with a drying function for more convenience
Multipurpose: Look for sterilizers that can sterilize items other than baby bottles
Multifunctional: Consider buying sterilizers that have various settings for more versatility
Deals: Look out for good deals during baby fairs and year-end sales for more savings
Large Capacity: Choose a sterilizer that is compact with a large capacity to be space efficient.
Differences Between UV & Steam Sterilizers
UV vs Steam Sterilizers
33 out of 45 mommies we surveyed prefer UV sterilizers over steam sterilizers. Most mommies prefer UV sterilizers as it saves a lot of time and they do not have to go through the hassle of refilling water after every use.
Functions
Capacity
Average Cost
Usage
Maintenance
Safety of Equipment
Length of Cycle
Auto, Dry, UV Led Storage, Clean
Stores up to 16 bottles
USD 323
Can be used for baby bottles, pacifiers, pump parts, toys, feeding sets
Needs a wipe-down occasionally
UV rays will automatically shut off when the door is open
30 mins – 1 hour
Basic Sterilization
Stores up to 6 bottles
USD 89
Can be used for baby bottles, pacifiers
Need to refill water every use
Risk of scalding due to the involvement of hot water
2 –  5 mins
Which Are The Best UV Sterilizers?
Best UV Sterilizers
Overall best bottle sterilizer
Pros
Large capacity: can fit up to 16 bottles
Multipurpose sterilization 
Do not need to replace UV lamps
Automatically shuts off after sterilization
Ability to select different settings
Has drying function
Easy-to-use
Cons
Expensive
Too bulky
Long sterilization cycles
53.33% of mommies we surveyed own a Haenim UV Sterilizer, making it the most popular bottle sterilizer.
27.78% of Haenim sterilizer users shared that the most loved aspect is its ease of usage – select Auto and the sterilizer will automatically transfer between drying and sterilizing.
The hefty price tag and bulkiness of Haenim sterilizers are the top reasons why mommies dislike the sterilizer.
Large storage bottle sterilizer
Pros
Large capacity
Multipurpose sterilization
Ability to select different settings
Has drying function
Automatically shuts off after sterilization
Cons
Expensive
Too bulky
Long sterilization cycles
The Wabi UV-C Sterilizer has a huge storage space that can fit at least eight to ten baby bottles depending on the size of the bottles. Both the top and bottom racks of the sterilizer can be removed but are not adjustable. This gives mommies the flexibility of sterilizing items that require a bigger space.
Which Are The Best Steam Sterilizers?
Best Steam Sterilizers
Multifunctional bottle sterilizer
Pros
Fits bottles of all sizes and shapes
Bottles stay sterile for up to 24 hours in the sterilizer
Can sterilize bottles, pump parts and pacifiers
Has drying function
Cons
Need to refill water every time you use the sterilizer
Additional cost: Require filtered or distilled water
Slight leaking can occur if lid is not closed properly
The Baby Brezza Sterilizer is a steam sterilizer with drying functions. This feature is good for moms that do not want to spend extra time drying their bottles.
Due to the design of the sterilizer, it can fit bottles of different shapes and sizes but they have to be positioned carefully in order to make sure that there is enough room for all the items you need to sterilize.
Value-for-money bottle sterilizer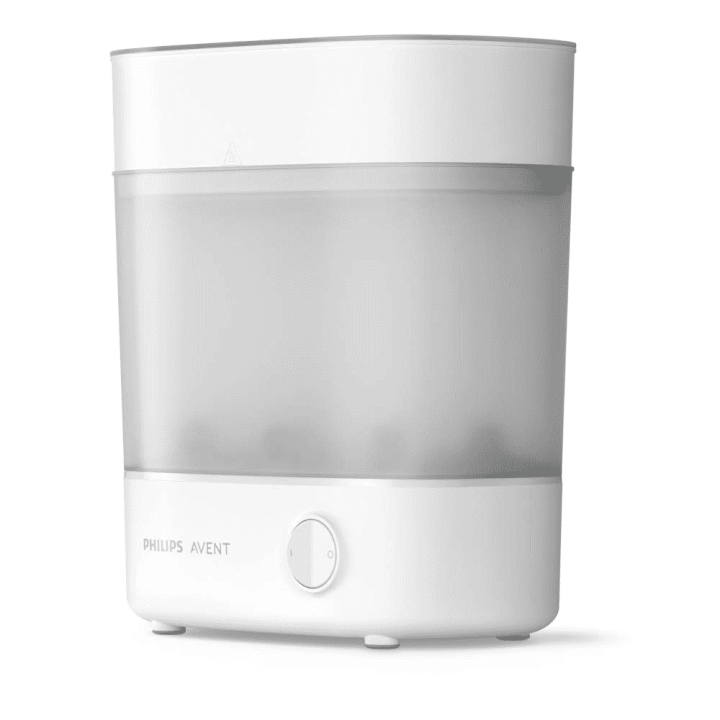 Philips Avent Advanced Bottle Steam Sterilizer
Pros
Has a large capacity, can fit many bottles
Affordable
Fast sterilization cycle
Automatically shuts off after sterilization
Easy-to-use
Cons
No drying function
Need to be cleaned constantly due to scaling
Can only sterilize baby bottles
Too bulky
11 mommies we surveyed own a Philips Avent Advanced Steam Sterilizer making it the second most popular bottle sterilizer. The mommies who used this sterilizer loved it for its affordability and ease of usage.
The sterilization process only requires six minutes and is shorter than most steam sterilizers. After pressing the button to activate the sterilizer, sterilization will begin and automatically shut off when it is completed.
One of the downsides of the sterilizer is that there is no drying function and you will have to manually dry the bottles. If you have more budget to spare, you can consider getting the Philips Avent Premium Bottle Steam Sterilizer & Dryer which can sterilize and dry baby bottles.
Other Bottle Sterilizers Mommies Used
Other Contenders 
Combi
Mommy bought the Combi Sterilizer and Dryer and recommended purchasing sterilizers with the dryer function.
Dr. Brown
Mommy used the Dr. Brown Deluxe Bottle Sterilizer but mentioned that it has limited capacity.
Buy from Shopee.
Loveamme
Mommy loved the Loveamme Love Clean Pro sterilizer for its large capacity and the ability to sterilize other baby items, but mentioned that it is too bulky and has slow sterilization.
Xiaomi
Two mommies received the Xiaomi UV sterilizer as a hand-me-down.
Buy from Shopee.
Lollababy
Mommy loved the Lollababy UV sterilizer for its ability to select different settings although it is expensive.
Buy from Lazada or Shopee.
Isauchi
Mommy bought the Isauchi steam sterilizer for its affordability but mentioned that it can only sterilize baby bottles.
Thoughts on Bottle Sterilizers
Concluding thoughts
Regardless of the sterilization method, sterilizers are essential in the early days of your newborn. With so many brands in the market, you will be able to find a suitable sterilizer that meets your needs and fits your budget.
Out of the many UV and steam sterilizers mommies used, we narrowed down to 5 of the best bottle sterilizers and their respective pros and cons for you to consider before making your purchase.
We hope that through this article, we were able to give you the information you need to buy a bottle sterilizer.
To end off this post, I would like to give thanks to the sweetest mommies, who replied me amidst their busy schedules to make this review possible:
Disclaimer: Nuevamae is not sponsored by any of the mentioned brands or platforms. This article expresses our honest opinion based on our experience and research. Read more about our mission. This article includes affiliate links so we may earn a commission (at no additional cost to you) if you make a purchase via the link.
4 Best Bottle Sterilizers in 2023: UV and Steam Sterilizers