The Jetkids Bed Box is a popular product parents buy for their children onboard flights. I personally was intrigued by the design and wanted to give my child a 'first-class' experience for our flight from Germany to Singapore.
I would recommend the bed box to parents who are looking for a product that:
Can make a long haul flight more comfortable for your child
Can transform a seat to a bed
Your child can pull with ease
Introduction about Jetkids
Jetkids by Stokke
Jetkids by Stokke deliver travel-related products, aimed at making our lives better. Whether you and your loved ones travel by plane, train, ferry or foot, Jetkids by Stokke has the necessary products you need for the entire journey.
They sell 3 products – Bed Box, CloudSleeper and Crew BackPack.
The Bed Box is a ride-on, carry-on and sleep-on suitcase.
The CloudSleeper is a lightweight and compact travel bed.
The Crew BackPack is an expandable bag that is made of waterproof repellent fabric and it can be attached to the Bed Box or stored inside.
What Ex-Cabin Crew and Mommies Have to Say About the Jetkids Bed Box
Ex-Cabin Crew and Mommies' Thoughts
My experience with the bassinet hasn't been a pleasant one.
Whenever the seat belt sign was on, I had to remove my daughter from the bassinet and carry her on my lap. This disrupted her sleep several times during my 14h-flight from Singapore to Frankfurt. Eventually, I got so frustrated I didn't even use the bassinet and carried my daughter to sleep.
I was afraid that this was going to be my experience with the Bed Box – having to remove my child from it or wake my child when the seat belt sign is on.
So I spoke to ex-cabin crew members (just so happens all of my friends were no longer with the airlines) and this was what I gathered:
The child needs to sit upright during take-off and landing
If the seatbelt sign is on, only the seat belt needs to be put on – there is no need to adjust a reclining seat.
During cases of strong turbulence, you may be told to sit upright.
Great advice: put the seat belt on for your child throughout the flight, so she sleeps with the seat belt on. There won't be a need to adjust after.
Ensure that you are not being assigned a seat at the emergency exit. If you are, you will be told to remove the Bed Box as it will block the exit. (note: if you have a kid, your child is usually assigned a window seat, so you won't block people from coming out in case of emergency)
We also spoke to mommies who used this bed box to find out about their experiences. This is what we gathered:
They loved the item
There were cases when they had to call their kid to sit upright when the seatbelt sign was on
How Do I Feel About the Jetkids Bed Box?
Personal experience
I absolutely loved the idea of the bed box turning the flight's seat into a bed. My daughter moves a lot while she's sleeping and having this 'first-class' experience made it so much more comfortable for her.
However, as my daughter was only 2 years old, she was able to lie flat on the 'bed' to sleep. That means that I was unable to put the seat belt on for her while she was sleeping. Thankfully, there wasn't any turbulence and there wasn't a need for my daughter to wear the seat belt.
Moreover, the Bed Box was unable to fit nicely under the flight's seat and that meant that I had to put it in the overhead bin.
Served well as a leg rest
During waking hours, it served well as a leg rest for my daughter to play, draw or eat on the tray. I didn't have to worry that my daughter might slip under the hole.
Quite a hassle to drag around
Apart from it being a great bed, I did not really fancy the function of it being a piece of carry-on luggage. My daughter wasn't very keen on riding the bed box, and it became quite a burden to drag it around with me. The wheels were incredibly smooth but without the extra weight of the kid, it tended to hit our legs when the adults were pulling it.
However, the smooth wheels did make it easy for my daughter to drag around. It did not last long though – she quickly got rid of the bed box when she was sick of pulling it.
Hence, I would definitely recommend it if you are looking to upgrade your child's economy seat to a first-class seat. It is a bonus if your child is willing to ride on it, or takes responsibility to pull it himself/herself. Don't bet on that because at the end of the day, my 2-year-old daughter left the Bed Box for us to deal with and it became quite a hassle to drag it around with us.
Features of the Jetkids Bed Box
Features
Turns a seat into a bed
According to the Federal Aviation Administration, you are required to buy an airplane ticket for a child above 2 years of age. This is when the Bed Box will come in handy – it is meant for children above 2 years old. It is approved by many airlines and is usable on ferries and trains too. It transforms a seat into a bed within minutes and your child would have a very comfortable space to lie on.
Mattress included
The Bed Box includes a two-piece mattress for your child to lie on. For a more comfortable experience, you can buy the cloudsleeper.
Children can ride on it
Your child can ride on the Bed Box, making going on much more convenient. They even included a top handle for your child to hold on while riding or being pulled. This is perfect for parents who don't travel with a stroller and would like an option for their child to rest, and not having to walk.
I personally used it with my 2-year-old daughter, who thoroughly enjoyed being pulled around. The novelty didn't last for very long though. She ended up wanting to be carried or being dragged on top of our cabin luggage instead.
Carry-on Luggage
The Bed Box has a capacity of 23L and that is almost the size of a normal backpack! However, you have to remember that you will also be putting the 2-piece mattress in there. The mattress would take up a little bit of space as well.
In the bed box, I could fit about 5-7 books, 2-3 sticker books, a pack of colour pencils and markers. The items I placed in the bed box were mainly for her entertainment while she was onboard.
Personalisation
Something fun, yet quite necessary to distinguish which Bed Box is yours. My daughter also enjoyed sticking the stickers on the Bed Box.
Places You Can Buy the Jetkids Bed Box From
Where to Buy
Bed Box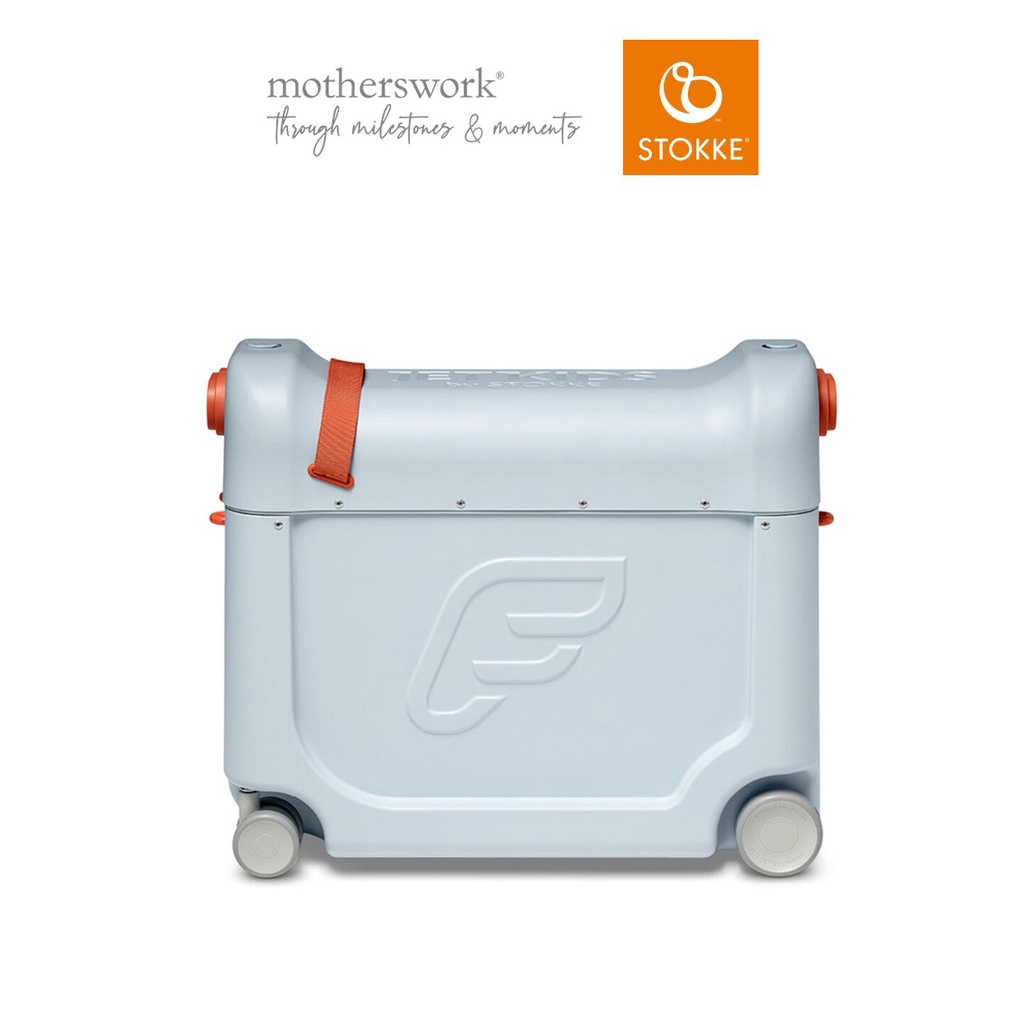 JetKids by Stokke Bed Box
Other Stokke Travel Products
You can buy the cloudsleeper from:
You can buy the crew backpack from:
You can buy the travel bundle (Bed box and Cloudsleeper) from:
You can buy the travel bundle (Bed Box & crew backpack) from:
Is the Jetkids Bed Box Worth It?
Concluding Thoughts
I would highly recommend the bed box if:
You have long-haul flights
You foresee your child falling asleep during the flight
For short-haul flights, I would rather have proper cabin baggage or a backpack. It is quite troublesome to drag it around. So I would only foresee myself bringing this if I am going on long-haul flights where I expect my daughter to be sleeping.
Disclaimer: Nuevamae is not sponsored by any of the mentioned brands or platforms. This article expresses our honest opinion based on our experience and research. Read more about our mission. This article includes affiliate links so we may earn a commission (at no additional cost to you) if you make a purchase via the link.
Jetkids Bed Box Review: Is the First-Class Experience Worth It?