Baby-Led Weaning (BLW) promotes independence and exploration, allowing infants to self-feed and eat fewer purees in favor of finger foods. To ensure a safe and successful BLW experience, it's vital to provide essential BLW supplies like a secure high chair, baby-friendly utensils, suction plates or placemats, small water cups, and protective mats.
Furthermore, prioritizing safety involves selecting appropriate foods and closely supervising meals to prevent choking risks. As beginning BLW can be daunting for some, our aim is to equip you with the necessary tools and knowledge to confidently introduce solid foods to your child in a secure and empowering manner.
In this article, our primary focus is on BLW spoons, which can provide your baby with a strong start in the world of BLW.
Why Should You Trust Me
Who Am I?
I'm a proud mom to a 3-year-old girl (as of November 2023) who, in my heart, has successfully embraced BLW since she was 6 months old. I took a break from work to personally care for my daughter from birth, giving me the opportunity to dive into BLW, a decision I've never regretted. During her first year on the BLW journey, I experimented with a mix of BLW and purees.
With perseverance and lots of hard work, I'm thrilled to share that my daughter tried a remarkable 100 different foods before turning 1, and I've seen the rewards of that early exposure. Now, nearly three years into this journey, she can:
Feed herself with utensils.
Explore new foods and even make comparisons between them (she can tell you that radishes have a different taste from potatoes but a similar texture).
Sit at the table and engage in conversations with the family while enjoying her meals.
Understand her own hunger and fullness, asking for more when she's still hungry and stopping when she's satisfied.
BLW Spoons vs Normal Baby Spoons
BLW vs Normal Baby Spoons
There are two key differences between spoons designed for BLW and normal baby spoons – the size and length of the handle and the depth of the bowl.
Size and length of the handle
For little ones who are just embarking on the exciting journey of self-feeding, they may come across some challenges in trying to handle normal baby spoons which come with longer, slimmer handles. BLW spoons are designed to be shorter with chunky or curved handles to fit comfortably within your baby's tiny grasp.
As your baby grows older (around one year old and beyond), they may be ready to explore using a slimmer spoon. This can aid in their transition to using regular flatware, allowing them to further develop their self-feeding skills.
Depth of the bowl
BLW spoons, also known as "pre-spoons" or first-stage spoons, are specially designed to help your child scoop and enjoy their food. The bowls of these spoons are flat and may even have holes in the middle to make it easier for your little one to get the hang of using their oral muscles to move food from the spoon to their mouth.
In contrast, normal baby spoons may have deeper bowls, making it more difficult for babies who are just beginning to self-feed.
Best BLW Spoons to Prevent Choking
BLW Spoons to Prevent Choking
The selected spoons often incorporate a range of features aimed at reducing the risk of choking incidents, including:
Their typical size and shape ensure they are safe for a baby's mouth, reducing the chances of unintentionally pushing the spoon too deep.
They are constructed from soft, baby-friendly materials, minimizing the potential for injury if the baby accidentally bites the spoon.
The inclusion of easy-grip handles aids the baby in securely holding the spoon.
---
Introducing the ChooMee FlexiDip Baby Starter Spoon, designed for babies aged 4 months and up, particularly those venturing into Baby-Led Weaning.
This silicone dipping spoon encourages self-feeding with its non-directional head and secure grip for tiny hands. Its flexible neck easily adapts to various bowl shapes, efficiently capturing baby food and purees. Made from dual-flex silicone, it's teething-friendly and lacks plastic, ensuring safety. It even includes a tether loop for added convenience.
---
The EzPz Tiny Spoon is your baby's first step towards self-feeding! Crafted with care, the dainty size of the spoon fits perfectly in those tiny, eager hands, while the soft silicone material ensures a gentle touch on delicate gums and emerging teeth.
But that's not all – this spoon is designed for a safe eating experience. Its shallow bowl helps avoid food overload and encourages measured bites, while the sensory bumps help prevent choking and gagging. Plus, you won't have to worry about cleaning up since the EzPz Tiny Spoon is dishwasher-safe!
---
The GOOtensil NumNum Pre-Spoon is made from soft silicone that's free from harmful chemicals like BPA and phthalates. Its dimpled head is like a food magnet, effortlessly scooping up purees and soft blends.
Additionally, its design means no more tricky scooping techniques – it's a spoon that empowers your little one to dive into their meal with ease. Say goodbye to spills and hello to fuss-free self-feeding with the GOOtensil NumNum Pre-Spoon!
---
Grabease Self-Feeding Utensils
Meet Grabease Self-Feeding Utensils – designed for your baby's self-feeding journey. These utensils have short, ergonomic handles that encourage baby-led weaning. They feature a cloud-shaped collar to reduce choking risks during self-feeding experiments. These toddler fork and spoon sets are made from safe, BPA-free plastic.
---
Introducing Munchkin's Gentle Scoop™ Training Spoon set, designed to tackle common self-feeding challenges. These ultra-soft silicone spoons feature a unique choke guard, preventing them from going too deep into a baby's mouth and keeping them off tables and floors. Boost safety and cleanliness during mealtimes with Gentle Scoop™ toddler spoons.
---
Introducing the NUK Pretensil Set, a fantastic choice for your baby's first experience with solid foods. This set includes a dipper spoon and fork, designed with easy-grip handles to encourage your baby's motor skill development. The dipper spoon's grooves and channels make it ideal for purees, while the fork's flexible tines are perfect for soft fruits and cooked veggies.
Conveniently, it's dishwasher-safe and free from BPA, ensuring a hassle-free and worry-free feeding experience.
Best BLW Spoons for Both Baby and Parent
BLW Spoons for Baby and Parent
The selected spoons feature slightly longer handles, which can be practical for parents who may also want to use them for spoon-feeding.
---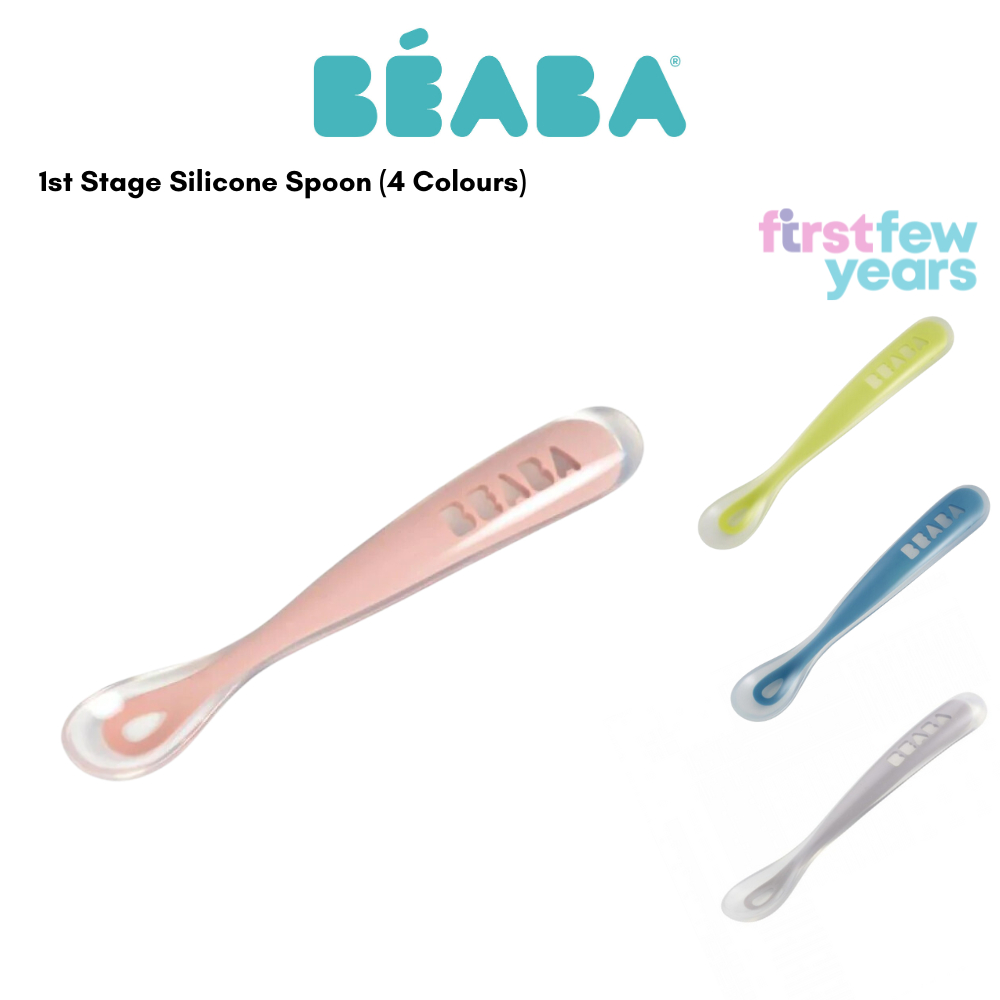 Beaba 1st Stage Silicone Spoon
Discover the Beaba 1st Stage Silicone Spoon, ideal for early training. These easy-grip spoons feature an ultra-flexible silicone tip, perfect for the transition from a nipple to a spoon. The handle length accommodates various baby food containers and is designed for an adult's hand.
Both the tip and covering are made from silicone, ensuring easy cleaning. The soft and flexible design eliminates any risk of harming your baby's gums.
---
First Essentials by NUK Rest Easy Spoons are the perfect companion for every stage of your baby's feeding journey, making mealtime less messy. These spoons are crafted with Rest Easy support, keeping germs away from the spoon and mess off the table.
The soft spoon tips are gentle on your baby's teeth and gums, and the spatula edge makes it effortless for parents to wipe food off their baby's face. These spoons are available in various colors, are dishwasher-safe, and are free from BPA.
---
Introducing Olababy's Training and Feeding Spoons, both made from safe, food-grade silicone. The Feeding Spoon, designed like a sprout and leaf, is perfect for starting your baby on solid foods. Its flexible material makes scooping, cutting, and slicing easy, while the suction cup base ensures hygiene.
The Training Spoon, similar in design, helps your baby transition to self-feeding and can also soothe teething discomfort. Together, these spoons are the perfect tools to teach your baby to enjoy food and self-feed.
FAQs About BLW Spoons
FAQs
How do I introduce a spoon to my baby in BLW?
Babies can be introduced to spoons as early as 6 months old (I introduced my daughter to her first GOOtensil NumNum Pre-Spoon at 6 months!). It's a good idea to let your baby explore the spoon by picking it up, touching it, and becoming familiar with it. Rather than pressuring your child to use it right away, allow them to adjust to its presence first.
Once your baby is comfortable with the spoon, you can start offering pre-loaded spoons, placing a small amount of food on it and giving it to them for self-feeding.
Remember that there's no one-size-fits-all approach to starting solids, and it's perfectly fine to spoon-feed your baby as needed. Be patient and let them progress at their own pace; mastering the spoon may take some time (it took my daughter about a year to use it effectively!).
Is it ok if my baby uses their hands instead of the spoon?
Isn't this what makes BLW so wonderful? Letting babies use their hands to guide food to their mouths is at the heart of it.
During that exciting first year of food exploration, it's a great idea to emphasize using their hands. No need to rush with utensils because as their hand-eye-mouth coordination improves, using utensils becomes much more fun and less challenging!
Disclaimer: Nuevamae is not sponsored by any of the mentioned brands or platforms. This article expresses our honest opinion based on our experience and research. Read more about our mission. This article includes affiliate links so we may earn a commission (at no additional cost to you) if you make a purchase via the link.
9 Best Baby-Led Weaning (BLW) Spoons for Your Little One in 2023